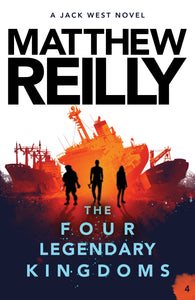 Matthew Reilly
The Four Legendary Kingdoms
Regular price
$15.39
$0.00
Unit price
per
 The thrilling bestseller from Australia's favourite novelist, author of the Scarecrow series and the Jack West Jr series with new novel Mr Einstein's Secretary out now. 
BOOK 4 IN THE JACK WEST JR SERIES A RUTHLESS KIDNAPPING 
Jack West Jr has been brutally kidnapped. He awakes in a cell to find a masked attacker charging at him with a knife. THE GREAT GAMES Jack has been 'chosen' to compete in a series of deadly challenges designed to fulfil an ancient ritual. He will have to traverse diabolical mazes, fight cruel assassins and face unimaginable horrors if he - and the world - is to survive. TO HELL AND BACK In the process, he will discover the mysterious and powerful group of individuals behind it all: the four legendary kingdoms. He might also discover that he is not the only hero in this place... 
---
Share this Product
---